Joint Light Tactical Vehicle

JLTV
Joint Light Tactical Vehicle – JLTV
Oshkosh is JLTV. Anything else is something less.
When it comes to protecting our troops, there's no substitute for experience. Based on decades of tactical wheeled vehicle engineering and manufacturing experience, only the Oshkosh® Light Combat Tactical All-Terrain Vehicle (L-ATV) delivers next-generation performance to serve the JLTV mission.
It's the trusted solution that's designed, built and backed by 98 years of vehicle production, integration and life cycle know-how to keep ground operations moving.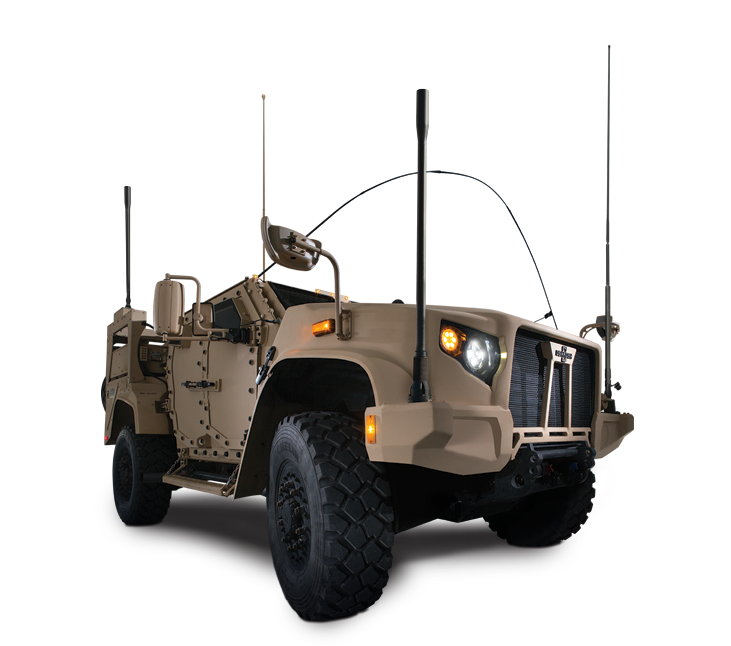 CUTTING-EDGE
CONTROL
FOR OPTIMIZED
MOBILITY.
Learn More
Take on the world's toughest terrains with the next generation of the most advanced suspension – TAK-4i™ intelligent independent suspension system*.
20 inches (508 mm) of wheel travel for improved off-road mobility
Adaptable suspension can be raised and lowered to meet transportability requirements using interior controls
Unprecedented levels of off-road performance for future requirements
High-performance disc brake solution
*Patent pending
The Oshkosh® Core1080™ comprehensive approach to crew protection provides troops with greater survivability and more confidence when they're needed most.
Advanced, integrated designs proven to increase survivability and give troops the confidence they need to complete their missions outside the wire
Mature, effective, battle-tested system provides greater crew protection and survivability
MRAP-level protection from underbelly blasts
Multi-faceted design delivers the ability to scale and evolve as operating environments change
Learn More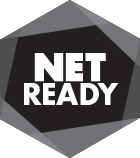 Ready to bring the network to the mission
Only Oshkosh Defense vehicle experts have a unique understanding of both world-class vehicle design and C4ISR systems integration to give troops leading-edge technology on the battlefield.

As a result, Oshkosh vehicles like the successful M-ATV (shown left) and the troops that use them are connected, protected and ready for every mission.
RESPONSE, SPEED AND POWER WHEREVER THE MISSION LEADS.
Whether traveling over hazardous terrain or unpaved roads, the L-ATV's digitally-controlled engine maintains steady and reliable power that Soldiers and Marines rely on to keep their missions moving.
Greater versatility and efficiency
Improved fuel economy in both idle and operational modes
Power train adapts to different operating conditions
Optimized engine power-to-weight ratio to provide superior acceleration, mobility and speed on grade capability
JLTV Leadership
John Urias
President of Oshkosh Defense
John, a retired U.S. Army Major General, brings almost 32 years of active duty experience to Oshkosh. As president of Oshkosh Defense, he built the team and set the strategy for Oshkosh's JLTV program. As a former Program Executive Officer who has managed and led hundreds of U.S. Army and Joint procurement programs ranging from WIN-T to Patriot & THAAD, John brings unique insight as he guides the Oshkosh team to meet or exceed all of our JLTV customers' requirements.
"There is nothing more important than protecting our troops – on and off the battlefield. The JLTV program is designed exactly for that purpose. It is filling a critical capability gap, which if not addressed, will put our troops in harm's way in future conflicts. The unparalleled expertise at Oshkosh is being harnessed to deliver an outstanding vehicle that goes beyond responding to requirements. It's designed to serve the men and women whose lives may one day depend on our truck."
John Bryant
Senior Vice President of Defense Programs
John, a retired U.S. Marine Corps Colonel, brings to Oshkosh 28 years of active duty experience. He is a military procurement expert and former professor at the Defense Acquisition University. John manages defense programs and is responsible for winning the JLTV production contract. His military experience, which included leading several acquisition programs such as Tank Systems, Light Armored Vehicles and Expeditionary Fighting Vehicles, enables John to translate the voice of the Warfighter and requirements into a product and program that will deliver beyond expectations.
"As you look at the industry landscape, no other company has successfully moved more vehicle programs from development to production than Oshkosh. To the credit of our engineering team, the Oshkosh JLTV performed exceptionally well during the EMD phase, which puts us in a solid position for the production competition. I firmly believe that the Oshkosh JLTV platform, being built by the same people who delivered the M-ATV, HEMTT and FMTV, is the best answer for our Warfighters."
Dave Diersen
Director of Defense Programs - JLTV
Dave leads the JLTV program with over 30 years of experience in the U.S. Marine Corps and defense industry. He works directly with the JLTV Program Office to ensure successful execution of the program, and that our Oshkosh team is meeting or exceeding all contractual requirements. Under his direction, Oshkosh delivered all JLTV EMD contract requirements on time. Today, Dave is leading the vehicle experts from all functional areas to ensure that Oshkosh is delivering the best value to our customers for the Production phase of the program.
"The threats facing troops on the battlefield have greatly increased since the HMMWV was introduced in 1984. The Oshkosh JLTV will fill the capabilities gap in the existing light vehicle fleets, giving our troops greater protection and off-road mobility. Our Oshkosh team directly applied decades of real-world, outside-the-wire experience to design and build the world's fastest and most reliable TWV [tactical wheeled vehicle]. Our JLTV will continue a very long legacy of providing Warfighters with vehicles they can trust during their missions."
Tony Wheel
Director of Operations Engineering
Tony brings 13 years of military experience as a U.S. Army Ordnance Officer to his role at Oshkosh Defense. Serving two tours in the Middle East, he has firsthand knowledge of how TWVs performed in theater. Today, Tony leads the strategic planning for the world class operation at Oshkosh that builds the world's best TWVs. Tony orchestrates the vertical integration and streamlines production of all of Oshkosh's TWVs on a single campus. He utilizes the proven Oshkosh Operating System, including the product development and manufacturing readiness processes to demonstrate that Oshkosh is fully prepared to start JLTV production immediately on an active and proven production line with a highly trained workforce.
"No other OEM has launched more successful TWV programs than Oshkosh. We have the past performance record, proven manufacturing and quality management processes, robust supply chain and experienced workforce needed to deliver the low-risk JLTV solution. Building the JLTV is a natural extension of our operations, because building military vehicles is our focus every day."
Mike Ivy
Vice President of Global Integrated Product Support
Mike is a retired U.S. Army Colonel and Logistician with more than 27 years of active duty experience. Mike and the Global Integrated Product Support team are responsible for leading the total life cycle lines of service for the entire TWV portfolio at Oshkosh, including the JLTV program. From our manufacturing facilities to the field, Mike and his team are dedicated to providing life cycle management, readiness and modernization services to support the Soldiers, Marines and their missions throughout the entire life cycle of the vehicle.
"Oshkosh doesn't just sell the vehicle. We also optimize the value of the fleet over the entire life of the vehicle. We are with the vehicle every mile – maximizing the reliability, uptime and readiness for missions all around the world – even in remote environments and war zones. We have extensive in-field experience servicing vehicles and factory-trained technicians standing by ready to serve our Warfighters anywhere and any time."
Chris Yakes
Vice President of Corporate Engineering
Chris has led technology development efforts at Oshkosh for 17 years and has been involved with the JLTV design efforts for more than 10 years. Chris has spearheaded many of the key technologies and platform development activities that make our current L-ATV such a success, including securing the extremely successful MRAP All-Terrain Vehicle (M-ATV) award, the current gold standard in protected mobility. In 2010, Chris led the effort in Oshkosh's participation in the Annual Tecate SCORE Baja 1000 off-road race with the Oshkosh Light Concept Tactical Vehicle (LCTV), showcasing the evolution of some of Oshkosh's most advanced technologies like the Oshkosh TAK-4i™ intelligent independent suspension system and the Oshkosh ProPulse® diesel-electric powertrain technology. Today, Chris is the leader in Oshkosh's vehicle systems integration – maximizing vertical integration and developing state-of-the-art technologies to support both Oshkosh and non-Oshkosh vehicles. Chris also leads the in-house team of experts who designed the power supply and integration of the C4ISR solution for the fully integrated JLTV EMD prototype vehicles delivered for the program.
"Oshkosh has developed and tested 6 distinct vehicle generations, including the LCTV that successfully completed the Baja 1000. We have refined, matured and enhanced our offering with each build. Today, the Oshkosh JLTV combines the latest in automotive technologies, a robust and multi-faceted crew protection system and the Oshkosh TAK-4i intelligent independent suspension system to achieve best-in-class performance at an affordable cost that is ready for LRIP production now."
Tim Snyder
Senior Chief Engineer, Armor and Survivability
Tim has been with Oshkosh for nearly 25 years, currently serving as the survivability lead on the JLTV program. Tim focuses on demonstrating compliance to all requirements while maintaining a tight focus on the Warfighters' safety. Tim and his team have leveraged Oshkosh's in-depth experience designing, analyzing, testing, fielding, and supporting numerous in-theatre vehicle platforms, including the MRAP All-Terrain Vehicle (M-ATV), to provide a multi-faceted, fully integrated survivability approach – the Core1080™ crew protection system. Core1080 is an occupant-centric, comprehensive design that focuses on 360 degrees of protection for troops. From blast mitigation, advanced suspensions and drivetrains, integrated C4ISR and beyond – the Core1080 crew protection system has been proven to increase survivability across a spectrum of high threat environments.
"I work with the most amazing team at Oshkosh. Everyone here is 100% dedicated to making our JLTV the safest and most reliable vehicle ever fielded. Through decades of experience and data, we've been able to optimize every component of our Core1080 crew protection system to protect the operator and crew while they perform their missions."
Dave Marek
Vice President of Engineering
Dave has been with Oshkosh for over 29 years. He is responsible for all aspects of engineering for all Oshkosh Defense products, from concept generation to production support and sustainment. He has successfully managed the design and life cycle improvements for a wide spectrum of tactical wheeled vehicles (TWV) for the U.S. Army and U.S. Marine Corps including the Logistics Vehicle System (LVS), Heavy Expanded Mobility Tactical Truck (HEMTT), MRAP All-Terrain Vehicle (M-ATV), Family of Medium Tactical Vehicles (FMTV) and most recently, the JLTV program. Dave maintains a focus on meeting or exceeding JLTV technical requirements, and works to ensure Oshkosh continues to earn its reputation as the leader in the TWV industry.
"Oshkosh is the only company that has the benefit of utilizing real-world experience and first-hand knowledge of what it takes to successfully fulfill the JLTV mission profile. From our modeling and simulation capabilities to our survivability and protection expertise, Oshkosh keeps the voice of the customer in mind throughout the entire design and production phases. Our engineering experts have decades of experience successfully designing, developing and sustaining the U.S. military's heavy, medium and MRAP vehicle fleets. All of this know-how is what makes our JLTV the most capable, reliable and cost effective offering."
Kent Schulte
Senior Chief Engineer, JLTV Program
Kent has been with Oshkosh for 13 years and is responsible for providing a vehicle offering that meets all requirements and is the best value solution for the JLTV program. Kent's priority is ensuring that Oshkosh provides the highest performing vehicle for the Warfighter. He has worked aggressively with the JLTV team from the beginning to design, develop and test the L-ATV to deliver a robust and mature solution, evolving our design in parallel with changing requirements, for the JLTV program.
"Capability mitigates risk, and Oshkosh Defense has a long track record of success managing programs similar to JLTV – with high-quality, on-time, and on-budget performance. More TWV programs have been successfully executed on-time and on-budget by Oshkosh than any other OEM."
Rebecca Van Scyoc
Senior Manager, Bid and Proposal
Rebecca has over 25 years of experience developing and managing complex proposal responses to U.S. Government solicitations. As the Proposal Manager for JLTV, Rebecca is responsible for delivering the highest quality proposal that provides the U.S. Department of Defense customer with the confidence that Oshkosh is the right choice to produce the JLTV. She serves Oshkosh by collaborating extensively with the capture manager and subject matter experts across all functional areas of the company to elicit feedback and build a winning proposal that highlights the company's capabilities and demonstrates that Oshkosh's JLTV is the best value, low risk solution.
"The people who work for Oshkosh genuinely understand the missions of the men and women who serve our country. Our team designs and builds all Oshkosh vehicles to provide optimized performance and protection. The strong connection Oshkosh employees feel with the people who use our vehicles in the field is special and gives me the confidence and conviction that Oshkosh will be selected to deliver the JLTV solution."
Dave Pelko
Senior Chief Engineer, Defense Science and Technology
Dave has worked at Oshkosh for nearly 12 years, currently serving as the senior chief engineer for the Oshkosh Defense Science and Technology (S&T) group. Dave is a member of the Armor and Survivability team for the JLTV program, developing the advanced force protection solution. Prior to joining the S&T group, Dave led the Armor and Survivability team that supported all survivability requirements at Oshkosh spanning the heavy, medium, MRAP, ARFF and light tactical wheeled vehicle platforms.
"I come into work each day with our team's primary goal at the forefront – to design, build and validate a vehicle that our troops and their families can rely on. Period. Our JLTV is built on the strengths and experiences that come from every Oshkosh heavy, medium and MRAP vehicle platform proven on the battlefield over the past four decades. Our JLTV is born from experiences serving all types of missions around the world, and in all terrains and threat levels. No other company can bring the breadth and depth of Oshkosh's vehicle expertise to the JLTV program."
Mary Frieler
Director, Financial Planning and Analysis
Mary serves as the director of Financial Planning and Analysis for Oshkosh Defense. She has personally led the proposal pricing strategies for Oshkosh's full range of TWVs for seven years, and most recently for the JLTV program. Mary and her team are experts in estimating costs of vehicles, kits and life cycle sustainment support, having managed competitive bids that include the extremely successful Family of Medium Tactical Vehicles (FMTV) program, as well as major sole source bids such as the Family of Heavy Tactical Vehicles (FHTV) and Logistics Vehicle System Replacement (LVSR).
"My job is to ensure that we provide our customers with fair and reasonable pricing and cost estimates to get them the vehicles they need, when they need them. Because of our extensive experience competing for TWV programs, we know the importance of fair pricing to our customers, who serve as stewards of U.S. taxpayer dollars. It makes me proud to know that Oshkosh provides the U.S. Government with absolute assurance that they are getting the most technical value for our troops – with fair and highly competitive pricing – from the industry's most trustworthy TWV manufacturer."
Dave McGraw
Chief Engineer, Global Technology Electronics and Software
Dave has worked at Oshkosh for nearly 11 years, currently serving as chief engineer for the Corporate Electrical Group, Global Technology Electronics and Software. Since 2008, Dave and his team have supported the electrical design for the JLTV program, including technical updates and test site support. His group designs the power generation and distribution, energy storage, wire harnessing, electronic control units, as well as operator controls and instrumentation for all Oshkosh Defense platforms. As part of the JLTV proposal team, Dave is responsible for articulating the entire vehicle design (occupant protection and workspace, powertrain and suspension, electrical system, software, C4ISR equipment and kits), delivering Key Performance Parameters (KPPs) and the significant benefits each subsystem provides to the Warfighter.
"The best part about my role is that I get to highlight the industry-leading technologies that set our vehicle apart and provide critical capabilities to support the Warfighter's mission. The quality of the cross-functional team that we have fielded, from a product development and proposal team standpoint, is unprecedented. The team is exceptionally focused and strives to maintain the high standard that Oshkosh has for its TWVs – and that's what makes me confident about the Oshkosh JLTV solution."
Gena Miller
Small Business Liaison Manager
Gena has been with Oshkosh Corporation for more than 14 years, supporting Oshkosh Defense for eight years as the Small Business Liaison Manager. Gena developed the small business plans for the MRAP All-Terrain Vehicle (M-ATV), Family of Medium Tactical Vehicles (FMTV) and many other Oshkosh programs. As part of the JLTV team, Gena focuses on qualified small businesses to guarantee that Oshkosh will meet or exceed its small business goals. Her team participates in many outreach activities throughout the year to develop relationships with small business owners, ensuring Oshkosh has a solid bid list available to give equal opportunity to both large and small companies. Her team is dedicated to small business advocacy and works in concert with the defense procurement team in locating strong, value-added suppliers that are necessary for building the Oshkosh JLTV solution.
"Building TWVs isn't just a side job. This is our job. We know trucks. And we have the proven experience in-theater that others don't. I know our vehicles' roles first-hand because my husband drove the Oshkosh M-ATV in Afghanistan. His life depended on them. And he's home today because of them. Oshkosh has the right team and the right expertise to deliver exactly what our troops need to complete their missions and get home safely."
Clint Herrick
Senior Director of Product Support Engineering
Clint has been with Oshkosh for more than 11 years and is responsible for development and analysis of the supportability content on the Oshkosh JLTV solution. This information is analyzed completely in house, allowing Oshkosh to effectively predict life cycle expectations of the vehicle and take a proactive approach to managing life cycle costs. Clint works directly with customers during design and test of the JLTV to ensure both mission requirements are met and life cycle costs are maintained. Oshkosh's attention to detail and focus on process mitigates program risk and ensures confidence in the Oshkosh JLTV solution's life cycle.
"Those that have been fortunate enough to ride in or drive the Oshkosh JLTV understand that it is truly a game changer. The ride quality is just one of the many innovations that Oshkosh has designed for the JLTV to make it a world-class solution to the Army and Marine Corps' capability gap in the existing lightweight tactical vehicle fleet."
Paul Larsen
Senior Program Manager
Paul has spent nearly a decade working in program management in the defense industry, serving Oshkosh for the last three and a half years. Prior to program management, Paul spent four years in the United States Air Force as an Electronic Warfare Systems Specialist. Today, Paul is responsible for planning, coordinating and controlling execution of all detailed contractual activities to ensure Oshkosh performs to scope and meets all requirements. Through planning and collaboration, Paul is able to leverage the superior experience of the vast array of resources available at Oshkosh and develop detailed, low-risk approaches to ensure that Oshkosh is delivering to the requirements and consistently exceeding customer expectations.
"Oshkosh is the leading OEM in the TWV industry for a reason. Through our extensive program management experience and proven system engineering practices, we have the track record in delivering the world's best-equipped vehicles not only on schedule, but on budget – always achieving the performance requirements and consistently setting the standards for our nation's Warfighters."
Matt Schreiner
Chief Engineer
Matt has worked for Oshkosh Defense for more than a decade, spending his most recent years as the Test and Evaluation Lead for the Oshkosh JLTV program. As part of the Test and Development (T&D) team, Matt works directly with program management, design engineering, procurement, manufacturing and logistics to ensure Oshkosh is offering the safest, most reliable, cost-effective product that meets and exceeds customer expectations. From evaluating individual components to testing the entire vehicle's durability, Matt and the T&D team are deeply involved from design through delivery – playing an important role in offering the customer the best, most reliable vehicle on the market.
"The design of the L-ATV platform builds upon the long, successful lineage of Oshkosh Defense TWVs. Having had the opportunity to spend time in many Oshkosh vehicles on various rugged test terrains, I am absolutely confident that the Oshkosh L-ATV is the JLTV solution. The brave men and women who serve this country deserve the best offering and the L-ATV is, without question, the best offer on the table."
Paul Brazeau
Quality Director
Paul has been with Oshkosh Defense for nearly five years and currently serves as Quality Director for the JLTV program. Paul leads the highly-proficient Quality team that oversees the Oshkosh Defense Quality Management System (QMS). Focusing on three key phases, Prevention, Control, and Correction – the Oshkosh QMS ensures that the Oshkosh JLTV, and all Oshkosh tactical wheeled vehicles, are produced and delivered to our customer at the highest quality level.
"The Oshkosh JLTV solution stands out from its competition because of the Oshkosh commitment to providing a superior customer experience, providing the highest quality product the first time, every time. Oshkosh's track record of providing world-class products and services to our nation's Warfighters cannot be disputed or replicated. The reputation we have with our customer is what makes me so confident that Oshkosh will be manufacturing the JLTV for United States Army and the United States Marine Corps."
Jake Jones
Senior Director of Manufacturing
Jake has been with Oshkosh for 12 years and currently oversees the Oshkosh Defense Manufacturing and Operations Engineering team. During the EMD phase of the JLTV program, Jake and his team successfully built JLTVs on our active assembly line, which were then provided to the customer for testing and evaluation. Today, Jake and his team are refining our JLTV LRIP phase manufacturing plan to ensure an on-time and on-budget vehicle build launch. The JLTV will be manufactured utilizing the same systems, processes and assembly lines that for decades have delivered tens of thousands of the world's most advanced vehicles to the Department of Defense.
"As an operations team, we take great pride in the way we manufacture products. We have designed, tested and built proven manufacturing processes that are flexible and capable of handling a variety of vehicles for all different customers and missions. We are confident that when it comes time to produce the JLTV, our proven processes will allow Oshkosh Defense to deliver a world-class solution to our Warfighters."
Close